Two teams. Four racers. One goal: Build the ultimate vintage hillclimb race sled and be the first to the top of Snow King Mountain at the Jackson Hole World Championship Hillclimbs. XPS racers Blaine Mathews and Jay Mentaberry take on two of the sport's legends: Carl Kuster and Steve Martin. Let the games begin!
XPS Lubricants have been partnering with snowmobile racers for decades, helping them and their sleds perform at their very best. While the sleds and riders' abilities have changed tremendously over the last 20+ years, one thing has not - these riders exclusively trust XPS to keep their new and old snow ponies running and looking as good as new. Here's a breakdown of each team's build.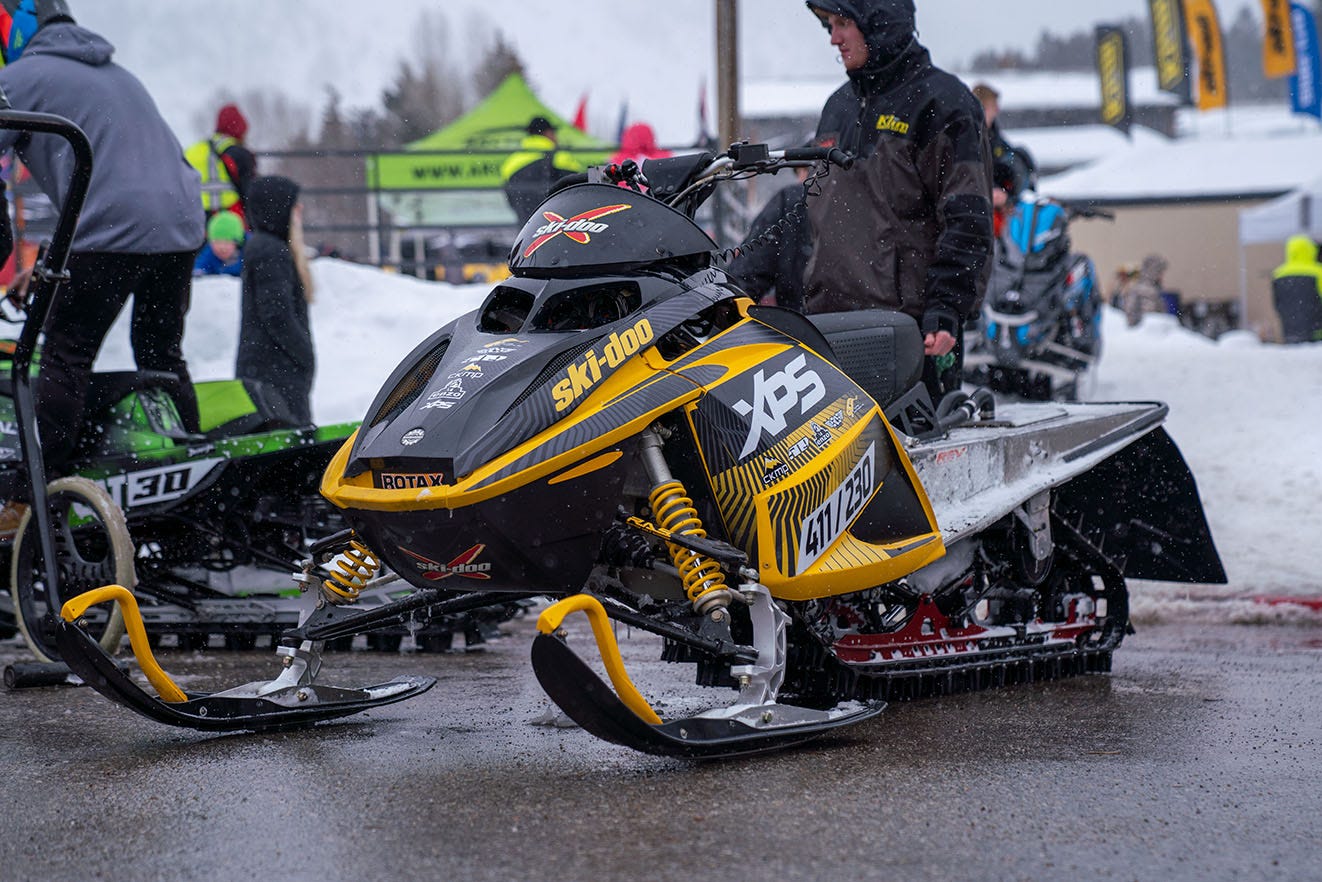 Jay Mentaberry – Blaine Mathews Vintage Ski-Doo Build
It took us four tries to find the ride that had all the goodies and potential we wanted. But as soon as we laid eyes on the 2003 440 MxZ 121-inch snocross race sled, we knew we had our baby that would take us to the top. The only thing left to do was add a few of our own personal touches and get this rodeo started!
The Build
For the engine, we got our hands on a factory 800 mod with Ski-Doo twin pipes. We deleted the oil injection so we could use the oil tank as a fuel tank and remove the weight of a full-size fuel tank. 
Being the handymen that we are, we measured 10 times and cut once to mount a 2023 Hillclimb edition rear suspension underneath. Is it legal? That might be in the gray zone, but the bump and jump capacity was freaking amazing! We kept the stock front suspension with the remote reservoir shocks and 42-inch frontend for stability while hauling you know what up the racecourse.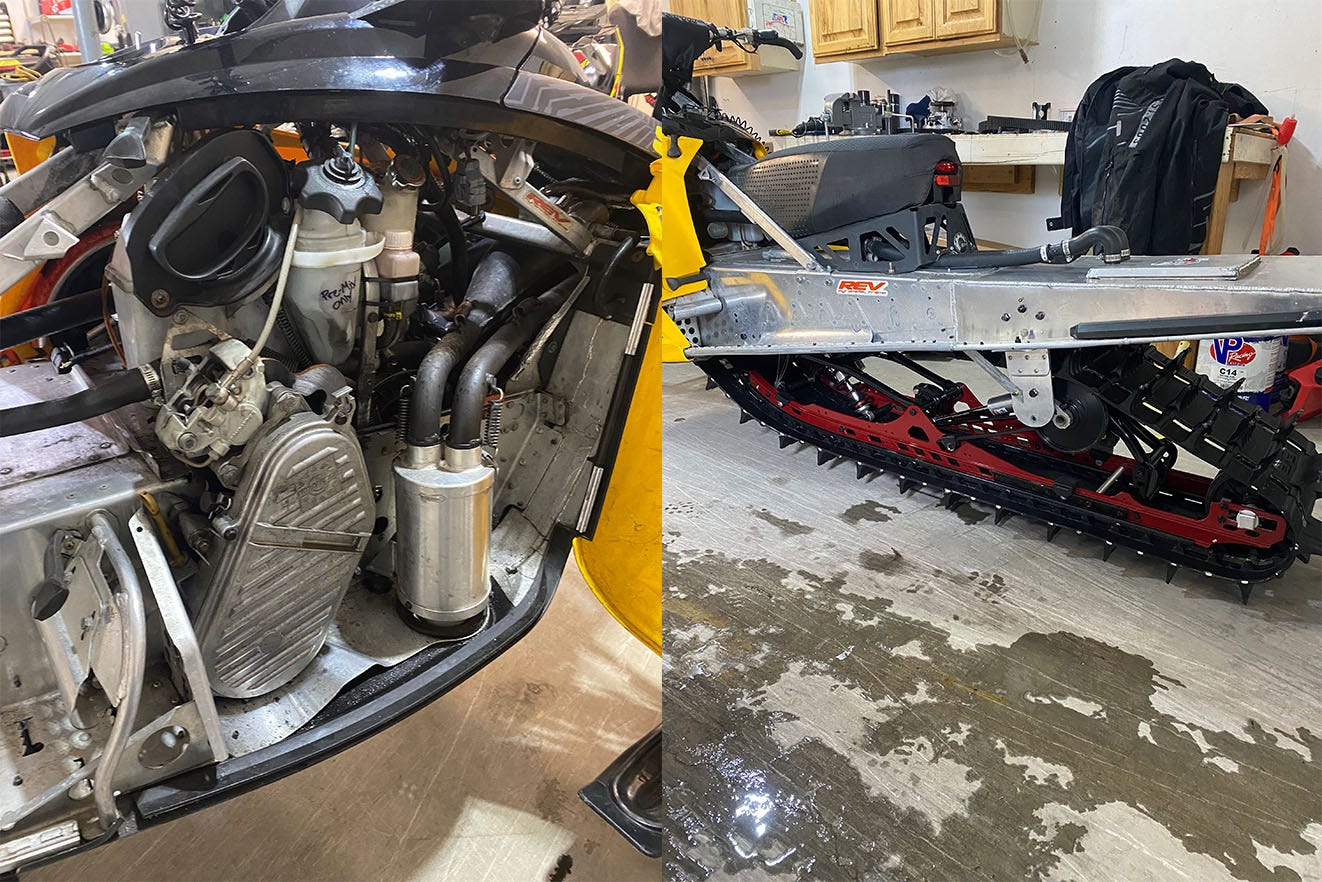 We custom-built our own Jay & Blaine special edition tunnel extension and cooling system. We didn't want to take any chances of overheating on our way to the top of Jackson Hole!
The build process for Blaine and I was super fun overall. A bit stressful at times, thanks to our excellent time management, but fun. We built this thing basically the week before Jackson and didn't finish our final tuning until the morning of qualifying. In the end, the sled was a pure ripper and handled better than we expected! We can't wait to add a few more touches over the summer and build another one…this time with 3 pipes!
Jackson Hole Vintage Kings
Once race day finally arrived, we each got our chance at a qualifying run and both Blaine and I made solid runs up the hill making it through to the finals. A quick clutch adjustment before Blaine's finals run was just what the doctor ordered. He had our vintage mod racer absolutely flying through the gates to take home the class championship and leave the "old timers" wondering what just passed them!
Steve Martin's Vintage Ski-Doo Build
We started with a 2003 MXZ 800 Rev that was converted to a long track in the 2000's. Saying it was rough is the understatement of the year. We found it sitting outside, overtaken by weeds. 
The Start: Immediate disassembly down to the frame. Spoiler: It was MUCH worse than we thought! The S-module (where the A arms bolt) was from losing a fight with a rock, along with all the A-arms. The frame where the engine sits was the worst we've ever seen, it was bent so bad that it made contact with the primary clutch. But we needed a 2003, so we continued the build.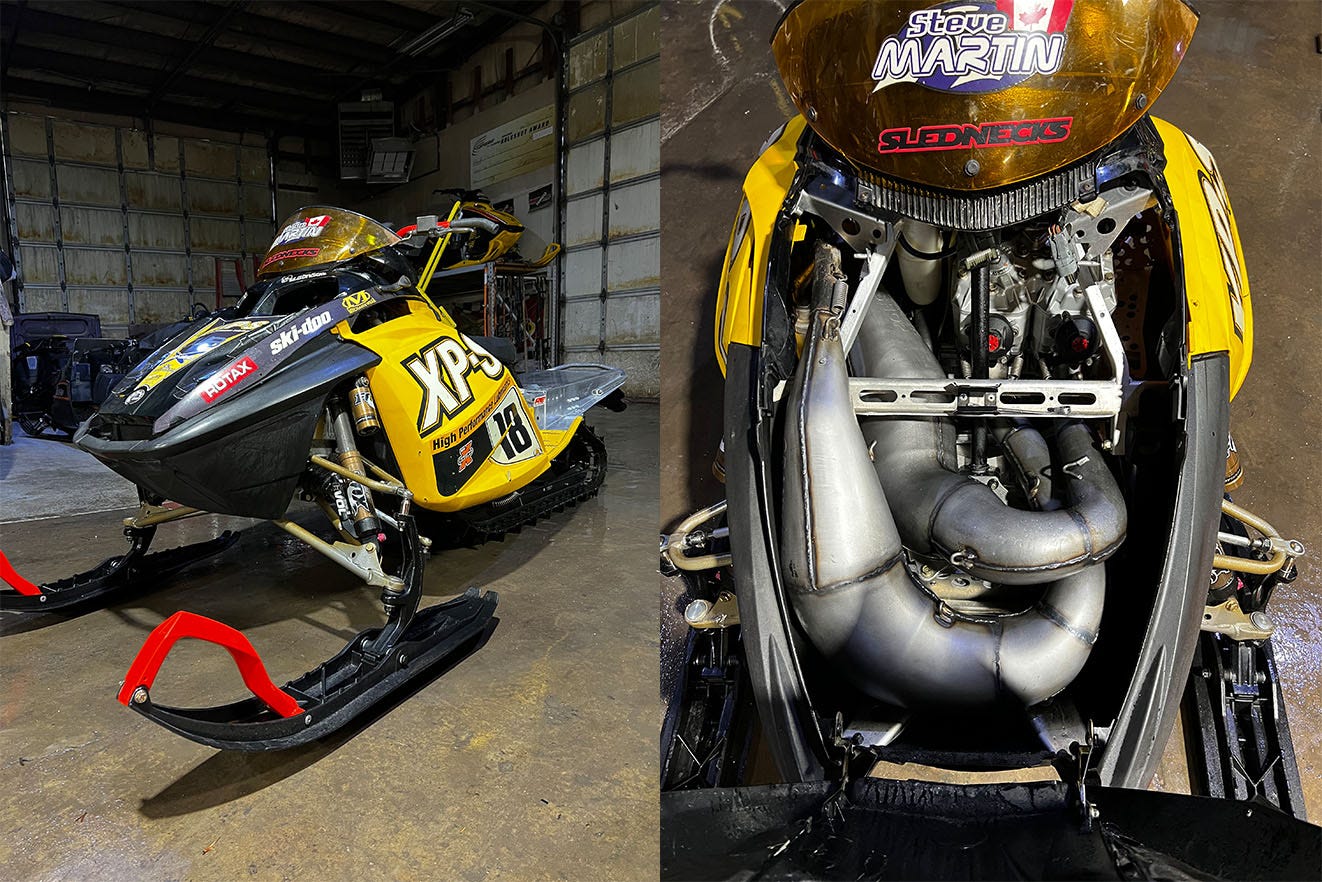 The Build
We hit the Google and found a slick kit that we used to brace the portion of the frame where the engine sits. We cut the broken pieces out of the frame, and the old welds where someone had attempted a previous fix. We drilled brace parts from a donor Rev frame we had at the shop, and after a lot of measuring and tweaking, we got the frame nice and straight.
A new S-module was installed, along with new 39-inch A-arms from a 2003.5 Rev Summit to replace the wider 42-inch MXZ A-arms. We grabbed a set of spindles from a 2022 Freeride to give us a little more clearance on the front end, along with Ski-Doo DS3 skis from a 2022 Summit X Expert. We pulled the Rotax 800 HO apart, had the crankshaft remanufactured and trued, added new pistons, ported cylinders, a high compression mod head, mod ignition box with an aggressive timing curve, rack carbs, twin pipes and a mod airbox. This was inspired from a snocross and hillclimb combo we used years ago that worked really well. We used a lightweight MXZ X 440 primary clutch and a Team TSS 04 secondary clutch. 
Other features included an aluminum gas tank hand-built in the Ski-Doo race shop in the 2000's. The hillclimb mod seat base built for a Ski-Doo Gen 4, and a 2022 Summit Expert seat.
A 146" rear suspension from a Ski-Doo Gen 4 was mounted in the sled to modernize the handling. We used carbon fiber rails that were on my 2021 Ski-Doo Freeride turbo. That was our downfall. As we headed up the Jackson Hole course, the rails broke on the second jump. We believe it might have had something to do with the fact that they were used by yours truly the year before on more than a few jumps and drops, and they failed when I needed them most.


Ready for Round 2
This project sled meant a lot to my dad and me. We have spent the last 25 years building race sleds together, and to do it again was very special. We took a lot of pride in building a really trick lightweight race sled. It was 419 pounds dry, and I was honestly shocked how fast it was the first time I rode it. It really broke my heart to break it so early in my first run. It was an honor to Represent XPS once again, and Two 7 Designs did an outstanding job putting a modern twist on the classic XPS wrap that I ran back in my racing career.  
The past 6 months have been a blast with this rivalry between Carl Kuster and me against our buddies Jay Mentaberry and Blaine Mathews. They did a great job building a sled that performed extremely well. Even though we had a failure, we aren't finished! We're already working on a remedy with the goal of a competitive run THROUGH the lights next year!