There are three main objectives when storing your sled for the summer: Prevent corrosion, protect from the sun and elements, and maintain the integrity of your fuel system.
Before you start, you'll want to make sure you sled is parked on a level surface in a well-ventilated area. Here are the things you'll need to complete the sled storage process:
XPS 2T E-TEC Oil (for 2-stroke engines) or XPS Oil Change Kit (4-stroke engines)
XPS Foaming Wash
XPS Fuel Treatment
XPS Chaincase Oil
XPS Suspension Grease
XPS Anti Corrosion Spray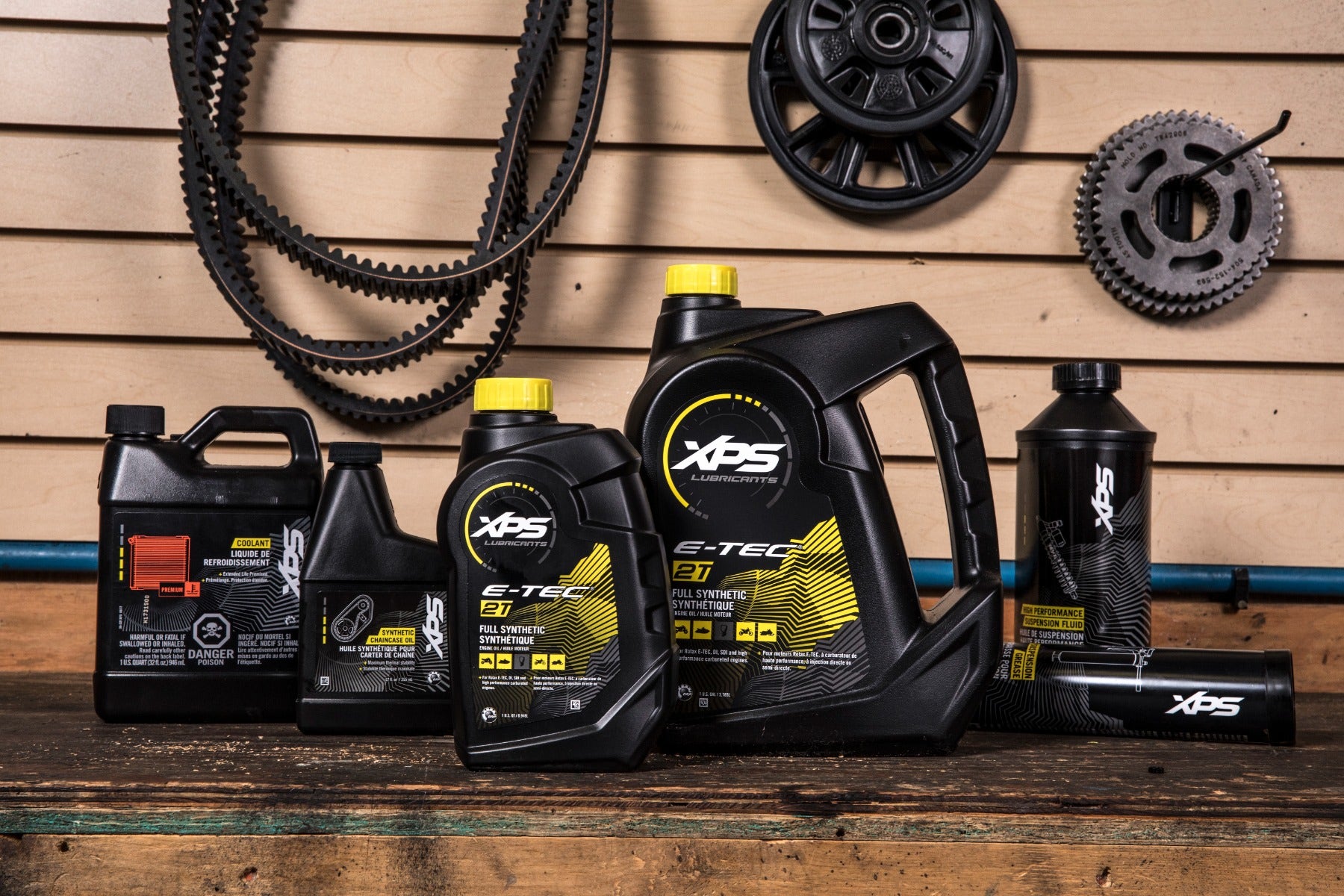 Snowmobile Chaincase and Oil
Changing the oil in your snowmobile's chaincase is a very quick process, and an essential step in storing your sled for the summer. You'll want to remove any contaminants and make sure your gears and chain are stored with fresh oil.
To do this, place a drain pan under the chaincase drain and remove the plug. Then use a flathead screwdriver to pry the rubber housing away from the fill location. Once the old oil has stopped draining, replace the drain plug and retighten. Fill with fresh XPS chaincase oil and replace the rubber housing by pressing it firmly back into place.
XPS Pro Tip: The XPS chaincase oil comes prepackaged with the proper amount of oil for your Ski-Doo. You can also always use the sight hole to double check.
If you own a 4-stroke snowmobile, this is also the perfect time to change your engine oil. Your local dealer can help you out, or you can grab an XPS Oil Change kit if you're the DIY type. The process will vary slightly depending on the model of your sled. Be sure to consult your Operator's Manual for the proper procedures.
Snowmobile Summer Storage Fuel Treatment
This is always a popular topic to debate among snowmobilers. Do you treat your fuel for summer storage, or should you drain it? Let us help clarify this debate that's as old as the first snowmobile to roll out of J.A. Bombardier's garage.
There's no need to drain the fuel from your sled. In fact, you'll want to do the opposite and fill your fuel tank and treat it with XPS Fuel Stabilizer by adding the appropriate amount for the amount in your tank. Filling the tank removes air that contains moisture – the enemy of storage. Then run your sled in a well-ventilated area and let it idle up to operating temp, so the treated fuel makes its way through the entire fuel system. Once it's at operating temp, shut it down.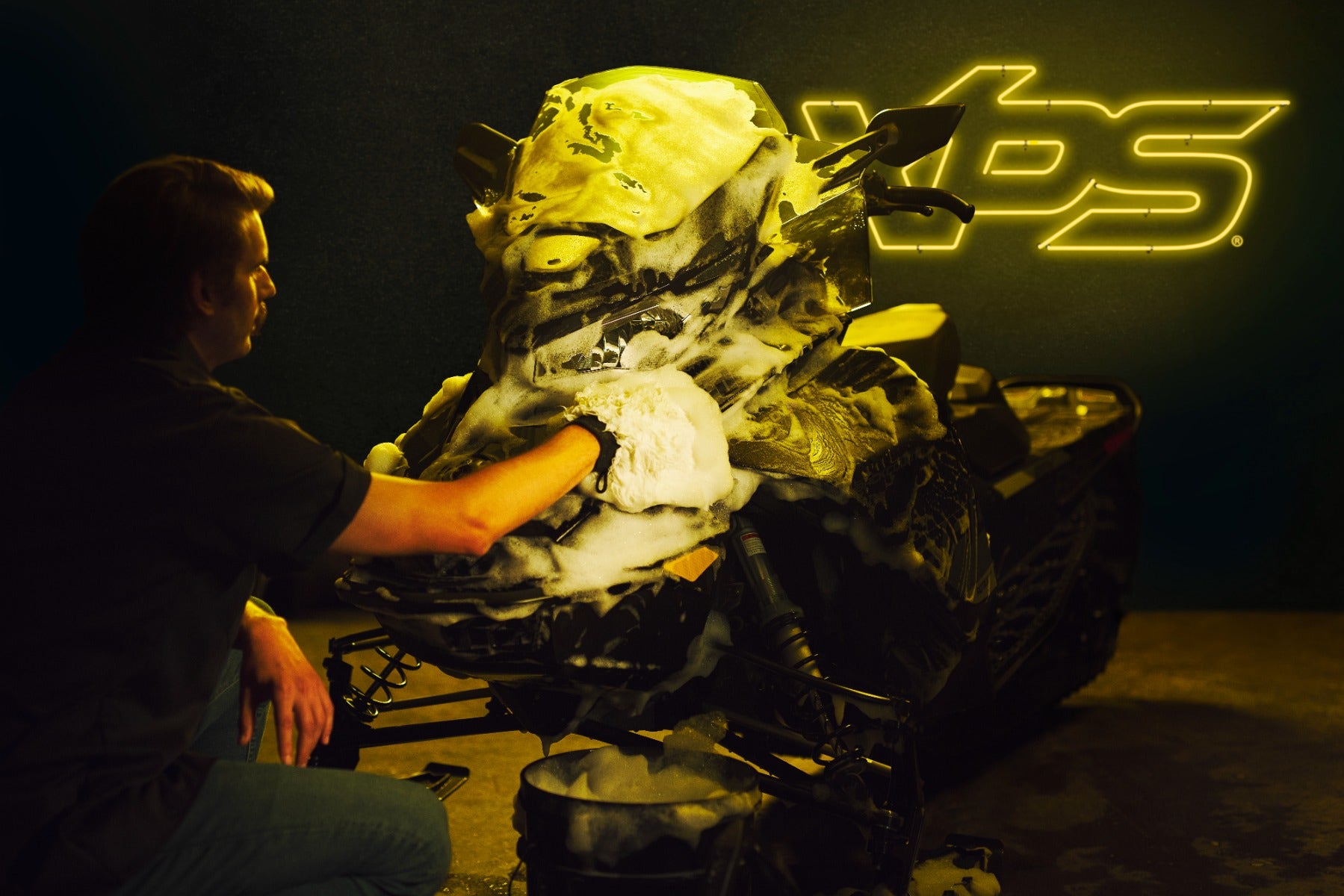 Wash and Rinse Your Sled
After a season of hard riding and tons of fun, you'll want to give your snowmobile a good scrubbing. This will remove any dirt and mud from that last late-season ride, along with any salt from trailering and road crossings. Fill up a bucket with the proper mixture of XPS Foaming Wash and water, grab your sponge and give your sled a thorough scrubbing, rinse and dry.
Prepping Your Sled Chassis for Summer Storage
Over the course of the snowmobile season, water, salt, and debris can work its way into the exposed areas of your snowmobile chassis. That's why it's important to grease your rear skid at the designated grease zerk locations with XPS Synthetic Suspension Grease. Adding enough grease with a grease gun to push the old grease out of the joint will ensure the integrity of those moving parts remains strong and operating smoothly.
Final Snowmobile Storage Prep
One of the handy features of Ski-Doo snowmobiles with E-TEC engines is the automatic summarization mode for off-season storage. Simply fill up your oil tank with XPS 2T E-TEC Synthetic Oil and follow the directions in your operator's manual to activate the summarization process.
For other engines (Rotax EFI 2-stroke, ACE and 4-TEC 4-stroke), you'll want to fog your engine cylinders. To do this, remove the spark plugs and spray XPS Storage Oil in each cylinder hole for several seconds – enough to coat the inside of the cylinders – and re-install the spark plugs.
How Do I Store My Ski-Doo for the Summer?
XPS PRO TIP: Complete these steps near the place you'll store your sled. You won't want to start your sled again until you're ready to ride once the engine is prepped for storage.
Once the interior of your engine is prepped for storage, give the exterior metal parts of the engine a good coating of XPS Anti Corrosive Lubricant for an extra layer of protection.
Finally, you'll want to find a resting place for your sled out of the sun. A cover is a great idea to keep dust away from your sled, but make sure it's a breathable material. You might also consider lifting your sled off the ground just enough to let the suspension extend.
And with that, your sled will be primed and ready to ride as soon as the snow starts falling next season.
Be sure to follow XPS on Facebook and checkout our YouTube channel for more vehicle maintenance tips.